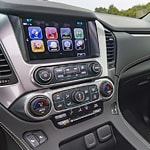 The Chevrolet Tahoe technology features have been designed to add an impressive level of convenience to the popular SUV model. These outstanding technology features have helped the Chevrolet Tahoe to become one of the most popular vehicles in its class. The team at Chevrolet has worked hard to ensure that the Tahoe's technology features are all located to provide maximum convenience.
Notable Technology Features That Set the Chevrolet Tahoe Apart From Other Options in Its Class
Some of the most notable technology features included with the Chevrolet Tahoe include an available Heads-Up Display that measures 15 inches. The Chevrolet Tahoe's Infotainment System measures 10.2 inches. Another key feature that helps the Chevrolet Tahoe truly stand out from the pack is its available 9 camera views. This is the most of any vehicle in the SUV class. Built-in Wi-Fi is another one of the great technology features that are available with the Chevrolet Tahoe.