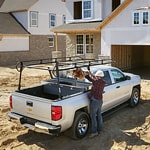 The design features of the Chevrolet Silverado 2500HD provide you with a sculpted exterior that creates a distinguished look. Here at Richland Chevrolet, we like the integrated bed steps that allow you to access the cargo bed easier. The big door-mounted mirrors give you four different types of lighting to provide options.
You can choose from nine colors for your own personal exterior. The cargo area is large enough to haul anything you can fit inside. The back opens for ease of access when stowing cargo too. The bed has lockable storage bins near the front of the Silverado 2500HD as well.
The wheelbase is longer, taller and wider too. The maximum towing capacity can haul up to 35,500 pounds for a true expansion of options for the perfect truck. Considering all the choices you have available, configure it for anything you like.