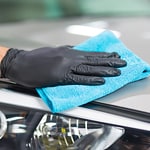 If you find that you need to tidy up your vehicle in a hurry, start first by dusting off the seats with an upholstery brush and then shaking out the floor mats to dislodge dirt and debris. Remove all visible trash from the interior, and wipe the windows, armrests, dash, and other interior surfaces with a dusting rag or soft cloth.
Moving to the outside, wipe the exterior windows using a clean cloth and glass cleaner. Clean dust from the doorframes and from around windows and trim and shine up the tires with tire cleaning spray. Clear out trash and unused objects from the trunk or cargo area, and organize the items that remain as neatly as possible.
We here at Richland Motors provide comprehensive detailing services for cars of all ages. Keep our service center in Roswell, NM mind in case your vehicle ever needs a thorough deep cleaning, inside and out.