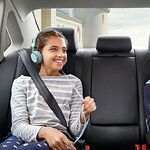 Almost everyone today has heard the wise advice about keeping your vehicle stocked with an emergency kit in case of trouble on the road, but a little extra planning is needed if you and the family are going to be undertaking a road trip in the near future.
The two most commonly encountered hassles when hitting the open road are vehicle breakdowns and getting lost. You can take steps to avoid the first problem by bringing your vehicle to our location here at Richland Motors in Roswell, NM for a complete check-up before you head out of town.
Mapping your route online, on your GPS, or with an old-fashioned road atlas can keep you from getting lost during your travels. Even if you do use a tech-based trip planner, it's a good idea to keep hard copies of the directions on hand in case you find yourself in a location with limited web access.